This year marks the 20th birthday of one of our favorite lyrical artists, A-Reece. Whether you are a fan or not, there's no denying the guy has serious talent. The young rapper recently dropped a hot single titled 'Couldn't Have Said It Better' and it gaining extreme momentum.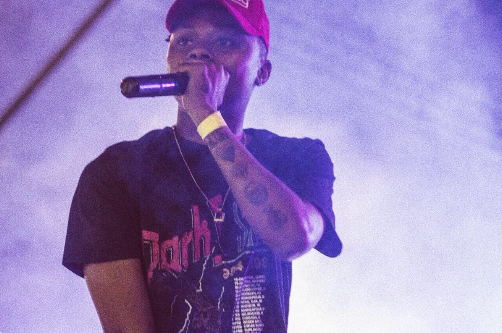 Kind of a different vibe on this one. A-Reece is not laid-back, and his flow is still very strong. Almost like this thug, hard rappin'  A-Reece really kills this one.
Let's check out A-Reece's best lines & lyrics from ' Couldn't Have Said It Better'.
1. They scared stiff of what the next move is
And still haven't gotten over what the last one did
2. You rely on sipping hot liquor to cancel out your fear
3. Look at yall losing to the kids again
4. They base opinions on popularity status
5. And that results to them comparing me to whats below the standard
6. Thanking everyone who stuck around
7. What goes up eventually goes down
8.What goes around comes around
9. And what was once below
10. Must now go up, yeah
Check out the full lyrics below:
[Phone Conversation]
A-Reece: "Yo listen yo Slikour, by the way man I might just give you something today"
Slikour: "Today?"
A-Reece: "Is that cool with you?"
Slikour: "What today?"
A-Reece: "Yeah today"
Slikour: "Aight lets go"
A-Reece: "Aight"
Couldn't have said it better
Part 1
Yeah
If I got mashed, then I'm covered
Nothing can come between or above us
They scared stiff of what the next move is
And still haven't gotten over what the last one did
I'm looking over my shoulder for a fuck to give
Since you're convinced, there's probably more left
They all from grace, just distractions
We aint stressing em
Say it with your chest when you see me and make the message clear
You rely on sipping hot liquor to cancel out your fear
Quick to shoot the other way
I'm going aiming at your head
Acting like you don't see a nigga
I'm right over here
Told Global that he's safe with us around him
Atmosphere
More focus
More coke pulling
Spilling everywhere
Crew foolish
Roll a tight doobie
Wild up
Euro stare
New movement
Look at yall losing to the kids again
They base opinions on popularity status
And that results to them comparing me to whats below the standard
I said that shit on you
Welcome, they still don't understand me
Instead of sounding like a broken record
We working on records
So we break your record
They feel the pressure breaking under it
Talent can't be measured
You aint special
You just funded nigga
Done tolerating these other niggas
And you can take it how you wanna nigga
Let's go catalogue for catalogue
And see who lasts the longest
From 20k to 20 more
And I'm just getting started
Every show we go it large
I'm my own boss
Difference between me and all them stars
They tweet man, I go record
Huh
And this is just the calm before the storm
You boys are acting like you got an extra X-chromosome
Fuck (Dintsang jo?)
Shit (Ey jo)
Fuck (Reece)
Man they still think I cant rap (Nah, nah, nah)
Thats the problem (Relaxer mfana)
Shit (Calm down boy)
Yeah (x2)
They know I'm still around, yeah
Your boy 29, yeah
Thanking everyone who stuck around
What goes up eventually goes down
What goes around comes around
And what was once below
Must now go up, yeah
Smoking loud at George Lebese house
All this shit to make my mama proud
This the realest that I've written that
Thought you had all this shit figured out
LOL, SMH, middle finger out
The money coming faster than her nigga now
She only fucking with the best
So that leaves you out
Comments
comments