Here's What Chad Da Don Thinks Of Cassper's Success! The rapper from Pretoria has been working very hard on his craft and it has been an amazing experience to watch him grow from the time he left Cassper Nyovest's record label.
It's clear that Cassper Nyovest and Chad Da Don are not the best of friends but they are also not enemies at the same time. Chad released a diss record aimed at Cassper in 2015 and has explained that it was because of a personal issue he had with his former boss.
Chad opened up about how his problem with Cassper was a personal problem that he dealt with despite not dealing with it in the best possible way. "My problem was a personal issue I delt with myself!maybe in the wrong way but I dealt with it !U can't hate on Nyovs Success !No ifani shit" said Chad Da Don.
No iFani shit: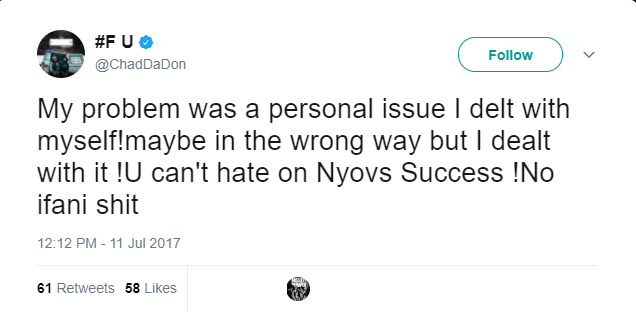 Comments
comments