Watch Khuli Chana Documentary On Getting Shot 9 Times And 'Picking Up The Pieces'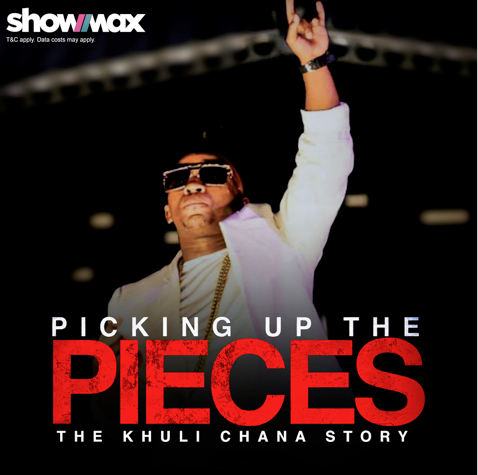 Picking Up The Pieces by Khuli Chana is a documentary that speaks to the rapper's rapid rise and tragic shooting that saw him getting shot nine times by the cops and nearly losing his life. Exploring his quest to recover physically, emotionally and mentally, the documentary takes off in 2013, a crucial year for Khuli Chana, who was on top of the game.
From releasing number one hits one after another to scooping major awards and becoming a father (which he says was the highlight of his year), Khuli Chana was living the dream life.
But the best year of his career took a sour turn when an attack changed his life forever. Khuli Chana recalls the day as weird, and feeling that something was off.
The day his life changed forever
Khuli Chana, who was wearing his own Khuli Chana snapback, recalls bullets flying as the police shot at him, with him trying to tell them they had the wrong person. The rapper remembers thinking about how his life had just begun but everything was about to end. Though he was the victim, Khuli Chana says he was treated like a criminal and waited too long to get an ambulance, as he sat on the side of the road bleeding.
Khuli says he wasn't sure if he was ready to leave the hospital after only having been there for less than a day. Sadly, this was not the end of a horrible night, but a nightmare that had just begun. Khuli remembers realising how serious the situation was when he heard he was being charged with attempted murder. He thought about everything that could go wrong, serving time for something he had not done.
Starting to heal
The police later apologised to the rapper for wrongfully accusing him. Khuli says he wanted to put everything behind him and what gave him focus was his baby daughter Nia. His partner Ayanda says his daughter being there brought him so much healing.
On getting back to music, his first gig after the incident was in Botswana. He describes his third performance after recovery at the Maftown Heights in Joburg as his rebirth, as his performance reassured his fans that he was going to be okay.
Deciding to forgive
Khuli admits to being self-destructive at the time: he says he knew he was losing it but wanted to keep it together for the outside world. The rapper says he was working harder than ever but was never present. Khuli became a loner and only felt safe around family.
Writing music became harder than before. But then he wrote the song "9 Shots" in Mafikeng and decided to forgive. And from then on, Khuli Chana says his career took off again. Winning international awards and endorsement deals, Khuli says that he's now putting out with his best work.
Turning a new leaf
"I've made peace, but I'm really disappointed at the system. I know there are good cops and there are some really messed up cops," he says, but he's turned a new leaf in his life and he's doing it for those who don't have a voice or the platform to speak out.After a long battle to reach a settlement, Khuli Chana says he's happy with the outcome, that everything has given him a new perspective and it has changed him in more ways than one.
Watch the trailer below

Written By Phumelela Mashego