50 Cent Trolls Gabrielle Union While Boosting "Power!" 50 Cent has never been one to hold his tongue when he's got something to say and this week he turned his attention to Power's competitors.
In an Instagram post made Sunday night (August 6), Fiddy joked about an unnamed show, writing, "Remember that other show that thought they were in competition with POWER, what happened to it? I don't hear anyone talking shit anymore. Now I'm gonna take over BET."
Actress Gabrielle Union, the star of BET's Being Mary Jane, replied, "I don't compete with other artists, only celebrate. Enough space for all of us to succeed. Cheers to Power and cheers to creative folks uplifting each other. ALL our programming could use more shine, so I opt to uplift."
Of course, 50 never started trolling with the intention of bringing things to a reasonable conclusion and decided to have some fun with Union, steering the conversation toward her marriage to Dwyane Wade.
The Power executive producer and rapper wrote back, "I'm never gonna argue with you because your Wades lady, I like Dwayne I got a lot of respect for him. this post has nothing to do with you but you know I'm gonna be #1 at BET, and I want you to know your Mary Jane show is welcome to stay on my network. LOL."
"You keep it up I'm a tell Dwyane, because I feel like your picking a fight with me," 50 captioned the photo of the exchange. "He [Wade] ain't gonna like this shit. LOL."
Swerve: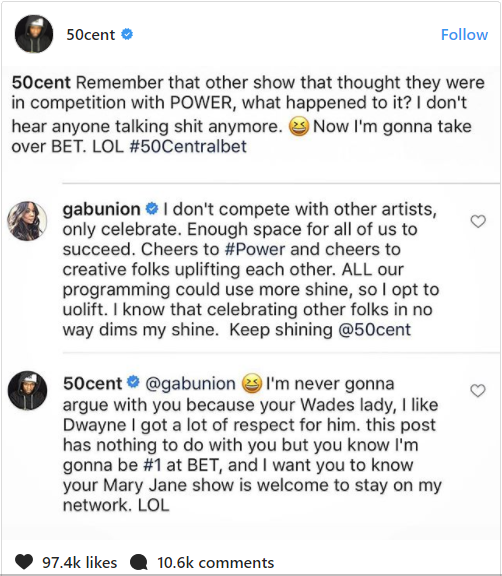 Comments
comments