What SA Hip Hop Thought Of K.O's "MS2" Visuals
What SA Hip Hop Thought Of K.O's "MS2" Visuals
What SA Hip Hop Fans Thought Of K.O's "MS2" Visuals! Before Mr Cashtime released his latest album "Skhanda Republic 2", his fans had been starving for material from the rapper. 
K.O had last released an album in 2014 which had him titled SA's hottest MC at that time. According to the Cashtime boss he then started paying more attention to his business but is now back on the music. Ever since he came back he has been getting support from his fans and fellow industry artists.
It seems that he came back with his loyal following, a lot of SA Hip Hop fans really liked the visuals for K.O's "MS2". The rapper is rapping hard on the track and on the visuals this gives an impression of dominance. Although the visuals are receiving mad support from fans, there are still those who think that it isn't a hit for today.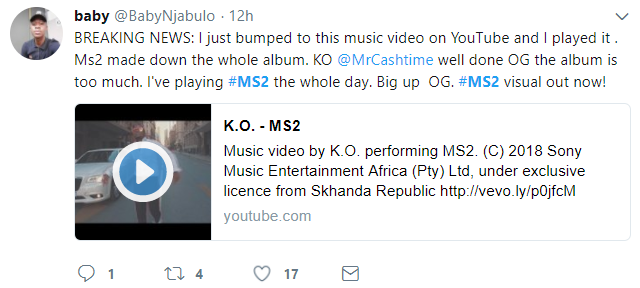 😊❤🔥🔥🔥🔥

I make the type of records that will put you in the mood, those SA rhythms that will move you with the groove, bass bussin out the woofers in the coupe, I just dropped the long awaited second album numbers shooting up the roof@mrcashtime #MS2video ❤

— Brian (@uhuruyuribellas) 28 January 2018
Check out @MrCashtime brand new #MS2Video —> https://t.co/XNaDLChe14 ‼️ Loving these visuals 🔥🔥🔥@unclescrooch 🙌🏽 pic.twitter.com/eawSo3IHWV

— 16 V (@L_Tido) 26 January 2018
BIG UP @MrCashtime#MS2Video🔥🔥🔥🔥🔥🔥#MS2Video🚀🚀🚀🚀🚀
Dope video🎥🎥🔥🔥🔥🎬 pic.twitter.com/291RjYf7bT

— #Legacy -K.O🌊🔥🌊 (@MALUSiM7) 27 January 2018
That K.O #MS2Video is WHACK! Sies 🚮🚮🚮🚮

— Moeketsi Mabitle🌺 (@MO_kAtz7) 26 January 2018