Fan Gets Bashed For Racist Tweet To AKA
Fan Gets Bashed For Racist Tweet To AKA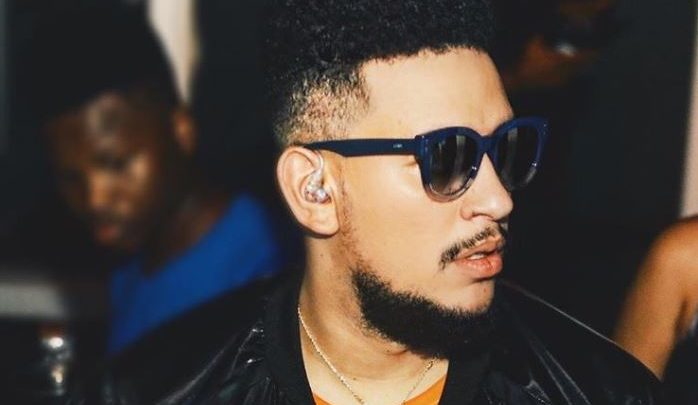 Fan Gets Bashed For Racist Tweet To AKA! For a long time people have criticized the way that AKA raps and speaks saying that he sounds like an American. A fan recently got bashed on twitter for making what seemed to be a racist remark to most of AKA's fans.
"Hope you gonna sound more like a colored than Black American," tweeted the fan. AKA responded to this tweet by asking the fan what a colored person is supposed to sound like. A lot of the fans took this as though the tweet was stereotypical of the way colored people are supposed to speak and this offended some.
"When you don't have a life and think criticizing people 24/7 is the way to go you stay stationary. If you don't mind let me be about positive energies and productivity," tweeted one AKA fan.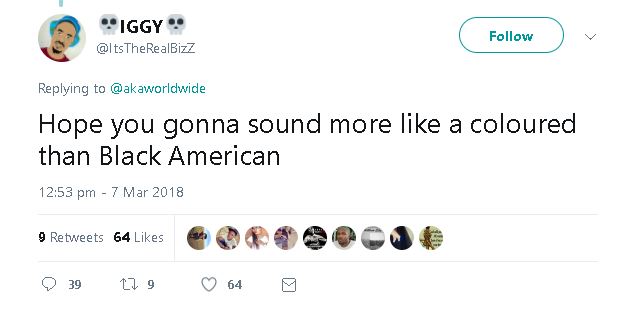 bro u racist…u need to stop that pic.twitter.com/CiiNTzHJDG

— Hemilton (@sibusiso_Quench) 12 March 2018
What does a coloured Sound Like??????

— AngieSantana_SA (@ItsAngieSantana) 12 March 2018
if AKA stops sounding like AKA then who would he be..??

— TrapStarDaddy (@luvuyo_gebashe) 8 March 2018
When you don't have a life and think criticizing people 24/7 is the way to go you stay stationary. If you don't mind let me be about positive energies and productivity. pic.twitter.com/3Jxj9jPXG8

— Latifah N. Xaba (@Latifah199X) 12 March 2018
Coloureds have different accents…a coloured person from Cape Town doesn't sound like one from Bloemfontein or North West ..it differs pic.twitter.com/BKmIUixZgj

— Kullid Kid (@RooyenCameron) 12 March 2018
These r my coloured cousins who speak tswana nd absolutely dont sound coloured. pic.twitter.com/ua0MpYOpGv

— SARAH MPHELO (@MPHELOSARAH) 12 March 2018
Not all coloureds sound th same

— Makaveli the Don (@Kaalvoet_Klong) 12 March 2018
Dude is on drugs

— Tee_time® (@InTOUCHwithManK) 12 March 2018
Wtf bra? pic.twitter.com/XILVxNy4ky

— Nthabiseng (@_NayyKnights) 12 March 2018
U just a bullshit!!! pic.twitter.com/ouzTDIofJr

— MankaR_ATM (@TumeloSekhosan1) 12 March 2018
This IGGY guy is really stupid.

— FRESH PRINCE OF VTOWN (@PrinceThams) 12 March 2018
@ItsTheRealBizZ come on bro wtf? You hating

— M&W (@MfundoLuthuli8) 12 March 2018
He's completely crap "indeed"😂😂😂😂

Some of us just write without proper thinking of the consequences ..

What was he thinking ,, I just wonder 😕😕😕😑😑 pic.twitter.com/EjbQc98hpe

— #JusticeForSenzoMeyiwa (@Usintutito) 12 March 2018