Cassper Wants To Know Why AKA's Song Sounds Like His
Cassper Wants To Know Why AKA's Song Sounds Like His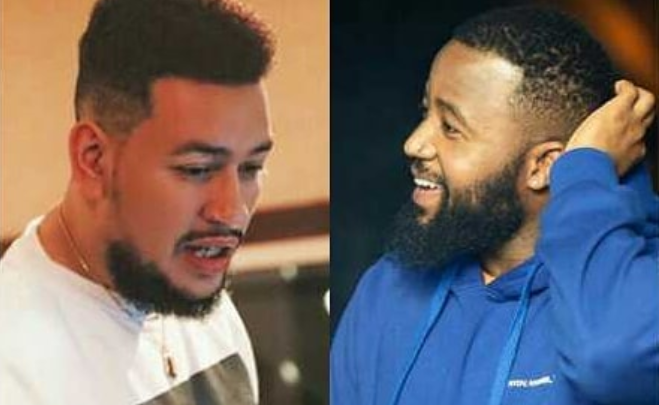 Cassper Wants To Know Why AKA's Song Sounds Like His! It seems the beef between AKA and Cassper Nyovest is a never ending one although the rapper's are constantly hinting that they are both over it.
AKA recently released snippets from his upcoming album with one song which was seen by Cassper as though he had taken the concept from him. Although the rapper did not say directly what he thought but his subliminal shots had a lot of the fans thinking. The rapper simply posted "Doc Shebeleza 2.0" after AKA had posted his new songs.
Doc Shebeleza 2.0 .

— R.M Phoolo (@CassperNyovest) May 24, 2018
Cassper went on to tweet that maybe it is time to release one of the songs he made back in 2015 and performed at concerts called Turn Up Gang which sounds similar to AKA's song which he played for his fans on his Instagram story.
Maybe it's time to release turn up gang. 😂

— R.M Phoolo (@CassperNyovest) May 24, 2018
When the rapper was asked by one of his fans why AKA's song sounds like his Turn Up Gang, the rapper responded saying that he doesn't know and is actually curious. "I don't know bro. I don't think that question should be addressed to me cause I want the answers too. I'm so confused. Entlek dintsang?," tweeted Cassper.
I don't know bro. I don't think that question should be addressed to me cause I want the answers too. I'm so confused. Entlek dintsang ? 🤔 https://t.co/jFZDAUXjhS

— R.M Phoolo (@CassperNyovest) May 24, 2018
@CassperNyovest Please drop this hit #TurnUpGang 😂 pic.twitter.com/kLFlmgPUD5

— BentleyCoupe (@SiyaGotze) May 24, 2018
This sounds like Turn Up Gang by @CassperNyovest https://t.co/hmRwUk33i2

— Khotso Dintoe 🇿🇦🇿🇦🇿🇦🇿🇦 (@kxng_tso) May 24, 2018
Lol…. This broer is hectic!!!! He'e hlemn!!!! Ha go diriwi yalo!!!!! Hehehe… Awww mara !!! Hehe… Yazi I can't believe this shit!!! Ke iphanya ka ditshego!!!!

— R.M Phoolo (@CassperNyovest) May 24, 2018
Your biggest problem is that you think little of yourself & get uncomfortable when you hear other people speak life into their lives. You believe nobody deserves to be happy because you're not happy. Try & change your attitude & you will see a big difference and your life. 🤞🏿

— R.M Phoolo (@CassperNyovest) May 24, 2018