Fans React To Nasty C's Savage Clapback To A Complement
Fans React To Nasty C's Savage Clapback To A Complement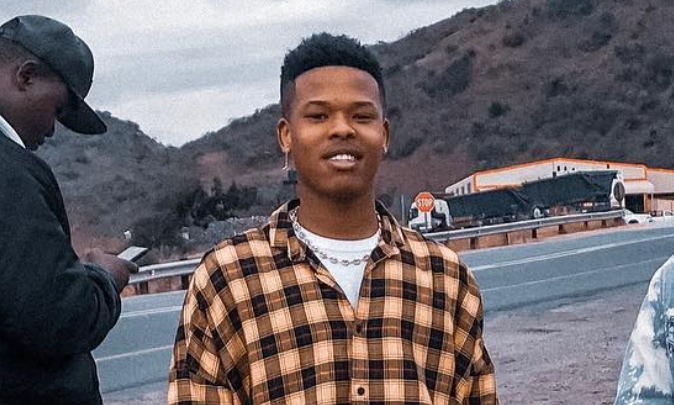 Fans React To Nasty C's Savage Clapback To A Complement! Nasty C has never been one to go on twitter and start throwing clapbacks at his haters, let alone his fans.
The rapper recently received what seemed to most as a sincere complement on his latest album from an upcoming artist. "@Nasty_CSA uyaroba his music is too strong #StringsAndBling," tweeted the fan and this got him a rather savage clapback from the NDA hit maker. "Suck a d**k," read Nasty's response to the fans tweet.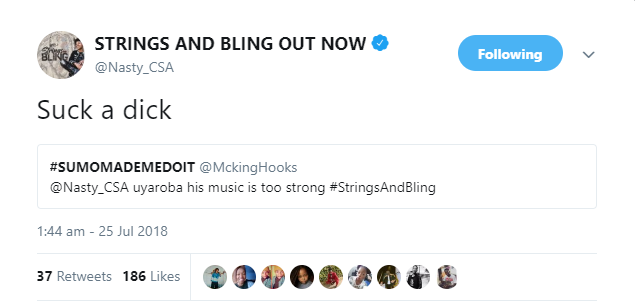 This caught a lot of the rappers fans who though that the tweet posted by the upcoming artist as a complement to the rapper. "Dude what's wrong with you? That's a compliment," tweeted one fan replying to Nasty C's response.
Dude what's wrong with you? That's a compliment

— Munhu Wa Ntima (@papa_zyle) 25 July 2018
This was a compliment though i think 😅

— Zee Nkosi © (@TheRealZeeNkosi) 25 July 2018
I honestly thought the other guy meant strong as in "good" lol Maybe Nasty read it the wrong way or he just doesn't like this dude for private personal reasons 😅

— Zee Nkosi © (@TheRealZeeNkosi) 25 July 2018
I thought he was giving you a compliment son.

— Nikola Tesla (@DouchBag_T) 25 July 2018
What???lol 😂😂😂😂😂 pic.twitter.com/VqtrJO0ZyB

— DeeJayMzet (@Gatsheni1996) 25 July 2018
Ddd side the high way lol

— René marie Seeberg (@ReneSeeberg) 25 July 2018
Why are you so AWSOME 😂😢

— SIMPHIWE 🐩 (@simmy686minutes) 25 July 2018
😂😂shit is getting outta hand🙌🙌 he must be high or smthng 😂

— vb-zw (@vb_ruthless) 25 July 2018
😂😂damn! That statement is not clear bcz of uyaroba

— The future is bright✊ (@Mavee_thedj) 25 July 2018