Every Rapper That Eminem Took Shots At On His New 'Kamikaze' Album
Every Rapper That Eminem Took Shots At On His New 'Kamikaze' Album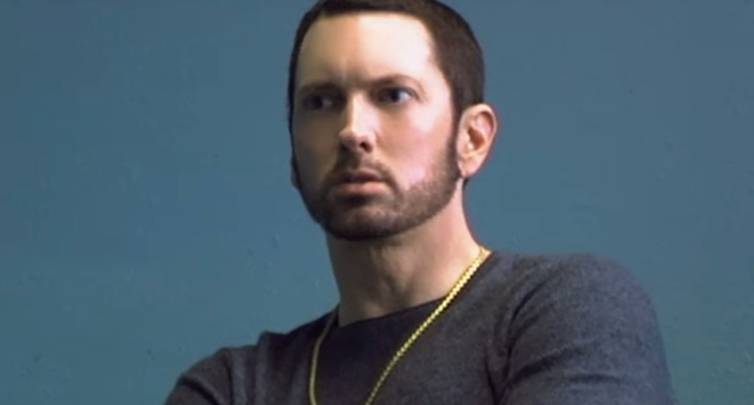 Every Rapper That Eminem Took Shots At On His New 'Kamikaze' Album! Eminem recently dropped his 10th studio album as a surprise album were he took jabs at quite a number of rappers in the game today.
From Machine Gun Kelly to Vince Staples, Em did not take any hostages as he either fired back at jabs fro over a decade ago to taking shots at new rappers in the game. If you did not catch some of the shots that Eminem was sending at rappers on Kamikazee, here is your chance to hear the back story and what he said.
Drake
There is no known history of beef between the two.
"You got some views, but you're still below me/Mine are higher, so when you compare our views, you get overlooked/And I don't say the hook unless I wrote the hook"
Vince Staples
Em took shots at Vince which was after the rapper publicly said that he could do better than Eminem's highly controversial BET Freestyle.
"If I press the issue just to get the anger out /Full magazine could take Staples out".
Joe Budden
Joe Budden called Eminem's single featuring Beyonce called  'Walk On Water' trash after he dropped his previous album.
"I'm sorry, wait, what's your talent? Oh, critiquin' / My talent? Oh, bitch, I don't know who the fuck y'all are".
Lil Yachty
Eminem decided to take shots at a number of new age rappers on this project.
The Ringer :"I can see why people like Lil Yachty, but not me though/Not even dissin', it just ain't for me".
Lil Pump and Lil Xan
Eminem accuses these two rappers of copying Lil Wayne's style of music and face tattoos.
The Ringer : "Lil Pump, Lil Xan imitate Lil Wayne/I should aim at everybody in the game, pick a name/I'm fed up with being humble/And rumor is I'm hungry/I'm sure you heard bumblings/I heard you wanna rumble like an empty stomach/I heard your mumbling but it's jumbled in mumbo-jumbo".
Ja Rule
This seems to reignite the beef between Em and Ja Rule from 2002 were Ja Rule sent vicious shots at Eminem name-dropping his daughter. "Em, you claim your mother's a crackhead/And Kim is a known slut/So what's Hailie gon' be when she grows up"
Greatest : "I hear you talking shit, I'm just too big to respond to it / God forbid I forget, go and jump out the window / Somebody better child-proof it / 'Cause if I lose it we can rewind to some old Ja Rule shit".
Mumble Rappers
Eminem takes shots at the whole idea of mumble rappers throughout his new album becausehe simply does not like mumble rap.
Lucky You : ""Hatata batata, why don't we make a bunch of fuckin'/Songs about nothin' and mumble!"/And fuck it, I'm goin' for the jugular/Shit is a circus, you clowns that are comin' up/Don't give an ounce of a motherfuck/About the ones that were here before you to make raps, it's recap"
Migos And Mumble Rappers
Eminem raps about mumble rappers whilst using the flow used on Migos' hit record Bad And Boujee
"Brain dead, eye drops/Pain meds, cyclops/They bed, iPod/Maybach, my bach/Trainwrecks, sidewalks/Pay less, high-tops/K-Fed, iHop/Playtex, ice spots"
Machine Gun Kelly
Machine Gun Kelly said that Eminem's daughter Hailey was "hot as f**k" in an interview back in 2012
Not Alike : "Now you wanna come and fuck with me, huh?/This little cock-sucker, he must be feeling himself/He wants to keep up His tough demeanour, so he does a feature/Decides to team up with Nina/But next time you don't gotta use Tech N9ne if you wanna come at me with a sub-machine gun/And I'm talking to you but you already know who the fuck you are, Kelly/I don't use sublims and sure as fuck don't sneak-diss/But keep commenting on my daughter Hailie"
White Rappers
Over the years Eminem has been ridiculed by fans who said that the only reason he blew up was because he is white.
Kamikaze : "But if the only reason I blowed is 'cause I'm white though / Why don't every other white rapper sell what I sold? (ooh)".
Tyler, The Creator
Tyler The Creator took shots at Em last year for his song with Beyonce Walk On Water calling it horrible.
Fall : "Tyler create nothing, I see why you called yourself a f**got, bitch/It's not just 'cause you lack attention/It's 'cause you worship D12's balls, you're sac-rilegious/If you're gonna critique me, you better at least be as good or better"
Drake, Lil Wayne and Kanye West
There is not any beef but referred to their 2009 hit single together Forever
Fall : "The fans waited for this moment like that feature when I stole the show (ha), sorry if I took forever (haha)".