SA Hip Hop Fans React To Riky Rick's 'I Can't Believe It' Visuals
SA Hip Hop Fans React To Riky Rick's 'I Can't Believe It' Visuals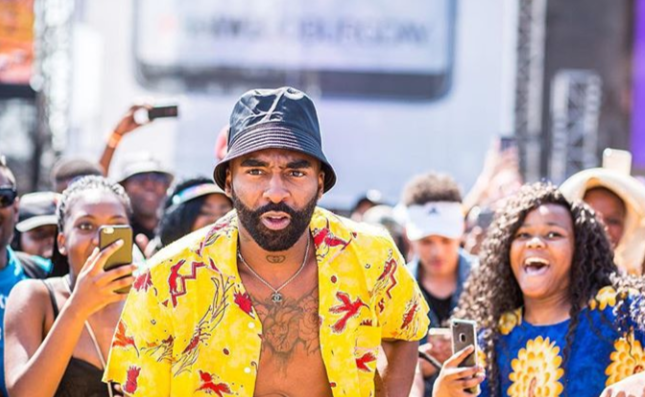 SA Hip Hop Fans React To Riky Rick's 'I Can't Believe It' Visuals! A few months ago we saw Riky Rick announce that he was taking a break from the industry to deal with personal issues.
The rapper has just made his comeback into the game with a hot new single titled I Can't Believe It which he dropped with the visuals. In the video Riky is in the middle of a riot in the streets of Johannesburg which also pays homage to the rapper's fashion sense.
A lot of the SA Hip Hop fans and rappers have been showing Riky love on his comeback single. "When it comes to music video's @rikyrickworld is on some some 7D @virgilabloh vision, brother deserves a @Cannes_Lions #Sifunamacoins," tweeted one fan who was impressed by the rappers new visuals.
When it comes to music video's @rikyrickworld is on some some 7D @virgilabloh vision, brother deserves a @Cannes_Lions #Sifunamacoins

— 𝒮𝑜𝓁𝑜𝓂𝑜𝓃 𝒥𝒶𝓈𝓅𝑒𝓇 𝑀 (@SolomonMolefe_) September 14, 2018
Bahama ngama steps nghamba nge elevator 🔥🔥🔥🔥🔥🔥💯✌️

— Inno💯 (@yao_Ming2nd) September 14, 2018
@rikyrickworld S'funa macoins is fire🔥🔥. The video is too much you showing nxggas how to make music video's, in ur words "Your video looks like a go pro, mina i only do art, done!".

— Keoikantse Motene (@Eve_S_Child) September 14, 2018
Think you iVenda LaKwaMashu 🙏🙏🙏🙏🙏🙏🙏🙏🙏🙏🙏

— I'M A GRINGO 🌞☔⚡ (@TweezyKingsa) September 14, 2018
@rikyrickworld just saw the video 🔥💯 all i can say is revolutionary 😪 https://t.co/rlm2hTrwF2

— Sun Set Trap ⛅ (@Toppic_SA) September 14, 2018
@rikyrickworld I CANT BELIEV IT is tha shit man the beat big up! This real hip hop not the maskandi tracks we alwys ser this is huge bra

— T-manMaluks (@TManmaluks) September 14, 2018
I'm so happy that you're back @rikyrickworld 😃. And thank you for the banger "Sfunama coins", I've missed you & your music✨❤ pic.twitter.com/iYRjIchIAE

— Vote4Bonang❤ (@Cele_Kristen) September 14, 2018