Kwesta Congratulates AKA For 'Fela In Versace' Hitting 1 Million Views
Kwesta Congratulates AKA For 'Fela In Versace' Hitting 1 Million Views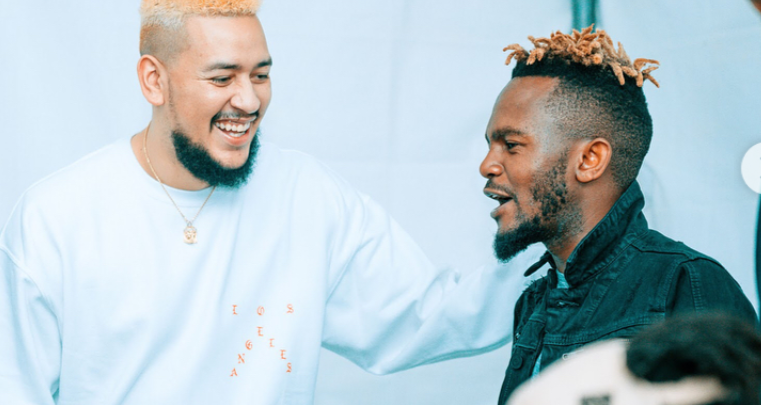 Kwesta Congratulates AKA For 'Fela In Versace' Hitting 1 Million Views! AKA's hit single Fela In Versace is one of the biggest songs that has dropped this year in Hip Hop and has been topping charts in different radio stations.
Kwesta recently congratulated AKA for hitting 1 Million views on YouTube and being at the top of the iTunes chart whilst he occupied the second and fifth spot with his singles Vur Vai and Spirit respectively. He then pointed out that it has been a year since Kwesta dropped Spirit and has just returned to the top five whilst Kid X's Mtan Omuntu found its way back to the top 3 after he dropped the visuals.
"Congrats to @akaworldwide number 1 & a MILLION views for #FelaInVersaceVid. @KidXSA's album #ThankDaKing is getting mad love & his #MtanOmuntoVid brought him back to the top of the @itunes Hip-Hop chart, where he belongs. By the way #Spirit was released 364 days ago, still Top 5!," read Kwesta's tweet.
Congrats to @akaworldwide number 1 & a MILLION views for #FelaInVersaceVid. @KidXSA's album #ThankDaKing is getting mad love & his #MtanOmuntoVid brought him back to the top of the @itunes Hip-Hop chart, where he belongs. By the way #Spirit was released 364 days ago, still Top 5! pic.twitter.com/QGkZL45fuT

— 🙏🏾 #K1Ggg #VurVai (@KwestaDaKAR) October 10, 2018