Lists
5 SA Rappers Who Got Brand Ambassador Deals In 2023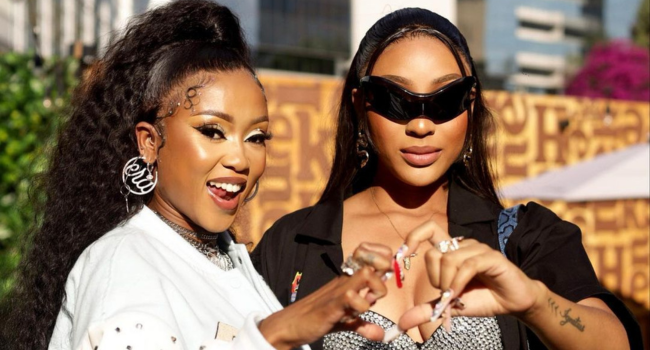 5 SA Rappers Who Got Brand Ambassador Deals In 2023. The year 2023 has seen a handful of prolific SA rappers not only dominating the charts but also securing lucrative brand ambassador deals that extend their influence beyond the realm of music. These artists have become the faces of major brands, leveraging their unique styles and personas to connect with diverse audiences.
Without further ado, let's share with you five South African rappers who have landed impressive brand ambassador deals in 2023:
1. Nadia Nakai – GUESS SA
Nadia Nakai, frequently recognized as the "Queen of South African Hip-Hop," not only stands out for her musical prowess but has also secured a significant brand ambassadorship with the renowned global fashion brand, GUESS, thanks to her distinctive and daring fashion choices.
2. Nasty C – Samsung
Nasty C has experienced an outstanding year, marked by the release of his highly anticipated album, "I Love It Here." and African Throne Tour with Cassper Nyovest. To maintain the integrity of his brand, the rapper has collaborated with Samsung, becoming the brand ambassador for the brand's S23 smartphone.
3. MajorSteez – Mr Price
The MajorSteez brothers are living up to the buzz they generated with their breakthrough track, "Asbonge." Beyond their dynamic presence in the music scene, their vibrant and energetic personalities have caught the attention of major brands.
While already collaborating with renowned names like Coca-Cola, the hip-hop duo reached a significant milestone this year by being unveiled as the fresh ambassadors for Mr Price and North Star, solidifying their appeal in the world of fashion and lifestyle.
4. Moozlie – Factory Africa
While Moozlie may not have been actively releasing music to dominate the SA Hip Hop scene, she has been making significant strides by landing major brand partnerships with well-established companies. The latest announcement reveals Moozlie as the fresh ambassador for Factory Africa, a brand of immense influence in the South African fashion realm. Collaborating with Moozlie for their Summer collection, Factory Africa recognizes the Skhanda Queen as a fitting representation of their brand.
5. Gigi Lamayne – Afro Slim International
In promoting a positive and healthy body image, Afro Slim joined forces with the renowned rapper Gigi Lamayne, to endorse their diverse array of body-slimming products. Beyond just being the brand ambassador, the "Ice Cream" hitmaker has personally engaged with some of the products, attesting to their effectiveness by revealing a personal weight loss of 3 kilograms in 4 months.