AKA's Spicy Message To Haters Leaves Twitter Shook
AKA's Spicy Message To Haters Leaves Twitter Shook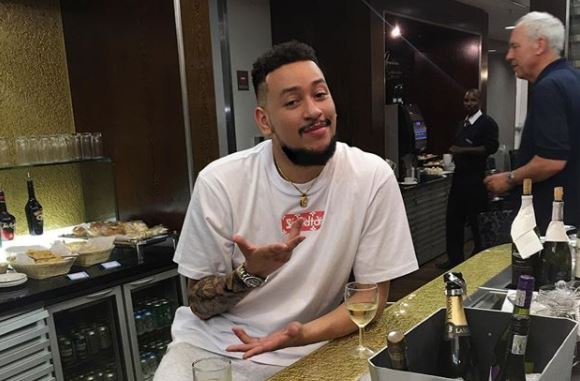 AKA's Spicy Message To Haters Leaves Twitter Shook! It seems as if every time the Supa Mega tweets he leaves the internet buzzing. The rapper recently shared pictures and videos on his trip to Texas, showing off his first class treatment with tweets that showed he hasn't lost his sense of humor.
"REAL TALK tho. Thank You. Each and everyone of you. Even the haters.

… i hope you all get to live your dreams. In the meantime, I'm gonna live it for you

," tweeted AKA. This tweet came after another that had a line were it seemed like he was throwing shade at his team about not flying in first class although he was the one who had gotten them the tickets.


Some SA Hip Hop fans saw the last parts of his tweets as unnecessary. Although some saw them as unnecessary, loyal AKA fans thought that it showed the real AKA who South Africa has come to know over the years. "The last part shows the real you…… You never change dude…..anyway all that matters is that ey are going dats all….1st class ….3rd class its the same," tweeted one fan.
The last part shows the real you…… You never change dude…..anyway all that matters is that ey are going dats all….1st class ….3rd class its the same

— Tashboy (@tashboy01) 13 March 2018
Last line was unnecessary pic.twitter.com/XkpC9utVAE

— 😎😎😎 (@pohmthokoh) 13 March 2018
Lol he included that last line to get on people's nerves yaz

— sarah Seabi (@Machuene_11) 13 March 2018
So he should change for you ? You are lost tsibipian 😅😂 pic.twitter.com/IgE7VPNaCg

— Thee_GuyPhosky 👑🙏 (@PhoSky_Koetelii) 13 March 2018
Lmao check out his latest tweet😂😂😂 you're right He's doing it on purpose

— Morena_shai (@Morena_Jl) 13 March 2018
Since y'all be doing it for me, please also die for me when the time comes. pic.twitter.com/ARM5u3S4UF

— ThisYearOrNever✊✊✊ (@TupasNgewu1) 13 March 2018
Everytime Mega tweets 😂😂😂 pic.twitter.com/RCcQ7WH9Ok

— Vista 🇿🇦 (@dynamicvista) 13 March 2018
😂😂😂😂 You definately in a good mood tonite. Your sense of humour is sky-high, is it cos u in a plane?

— MOGALE (@ngwakomogale_sa) 13 March 2018