Most Quotable Lyrics From Travis Scott's 'Astroworld' Album
Most Quotable Lyrics From Travis Scott's 'Astroworld' Album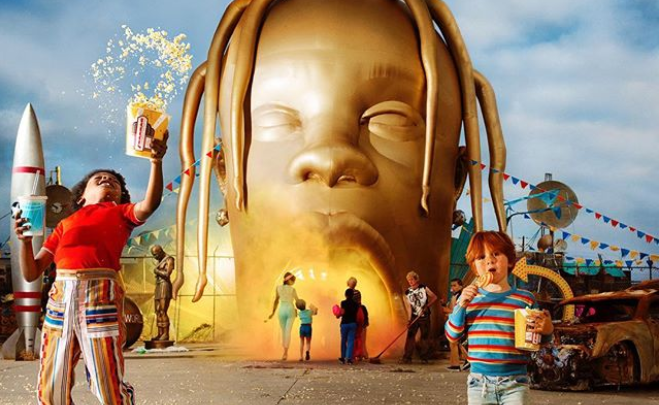 Most Quotable Lyrics From Travis Scott's 'Astroworld' Album! 2 years after Travis Scott dropped his highly successful album Birds In The Trap Sing Mcknight, the rapper has decided to follow up with his new album titled Astroworld.
"Astroworld" comes at a time were Travis has made a transition from the wild trapper he was into fatherhood and a high profile relationship. The rapper tackles these issues in his new album which is 17 tracks long. Travis' album has been getting a lot of positive reviews from the SA Hip Hop fans all over the world being tagged as a game changer.
Stargazing
"Got the keys into my city, now she know the rides/Got new money, got new problems, got new enemies/When you make it to the top, it's the amenities"
Sicko Mode
"Was off the Remy, had to Papoose/Had to hit my old town to duck the news/Two-four hour lockdown, we made no moves/Now it's 4 a.m. and I'm back up poppin' with the crew"
No Bystanders
"Bicentennial man/Put the city on slam/She get trippy off Xans/Lost 21 grams/And she did it on cam/Wasn't no video dance/Make my own rules/I really don't pick, I just choose/I don't send pics, I just shoot/Chopper gettin' screwed/I told her it's B.Y.O.B., that mean buy your own booze"
5% Tint
"Who's that creeping through my window?/Before you come outside I got the M4/Took her to the endzone from the ends, though/Know I love to smoke, you love to lick more/Wanna hit the Jack then what you call for?/All that out your new shit that ain't called for
NC-17
"Had to buy a visa, she from Moscow/Fuckin' 'round with Travis, you get crossed out/He used to be on, that nigga off now/I done got so rich, I Saint Laurent my dogs now/Earrings cost a quarter certified by GIA"
Yosemite
"Two-tone Patek/Fendi clipboard like I Uber the jets/VVS's on me got my Gucci shirt wet/Put a M in my bag, I'ma get used to these racks/I went to school where they teach you finesse"
Can't Say
"You must be cautious, told the lil' hoes I'm all in/Play this ballers offense, I left ol' girl, she callin'/You know I hit in morning, oh yeah she yawning/I met you in the club, bitch you know this shit mean nothing/Oh, then I hit your cousin, mhm, no-no discussion"
Who? What!
"In the Hills but still keep them ghetto ties/Was talkin' Frenchy's but she thinkin' Ocean Prime/Know she keep an open mouth and open mind/I don't open up her door, she open mine"