Cassper, Blaklez & Many More Share Thoughts On L-Tido's '16' Album
Cassper, Blaklez & Many More Share Thoughts On L-Tido's '16' Album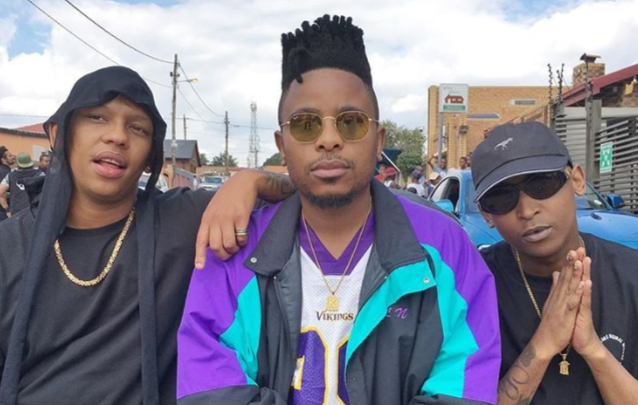 Cassper, Blaklez & Many More Share Thoughts On L-Tido's '16' Album! L-Tido is undeniably one of the most consistent rappers in the South African Hip Hop industry who has been able to stay relevant for over ten years as an independent artist.
The rapper has also gained himself respect as an OG in the game from both the fans and artists for his work ethic. Tido dropped his highly anticipated album today (28Sept) and has been getting a lot of support from the SA Hip Hop industry as a whole with rappers and DJ's tweeting about the album since release.
"My bruh @L_Tido has just released his third studio LP. #16Album available on every digital platform. Congrats G," tweeted Blaklez right after the album had dropped.
My bruh @L_Tido has just released his third studio LP. #16Album available on every digital platform. Congrats Ghttps://t.co/NBGSYu5Ew3

— Baby Brother (@Blaklez) September 28, 2018
Get @L_Tido – #16 album: https://t.co/tsxBRjy0AV@TweezyZA and I did track 4 – "Regular Drip"

— King ZooLoo (@Zoocci_CokeDope) September 28, 2018
#16Album loaded!!! Please do buy or stream the album ⁦@L_Tido⁩ 🇿🇦 https://t.co/zrWrkC68nW

— #DustDJ #RIPGIFT🇿🇦 (@DJVigilanteSA) September 28, 2018
Get it !!! https://t.co/kbvk2ruXea

— R.M Phoolo (@CassperNyovest) September 27, 2018
🚨NEW MUSIC ALERT 🚨 #16Album by my brother @L_Tido OUT NOW!!! #RegularDrip #NoFavors 🔥🔥🔥🔥

Stream/Buy here – https://t.co/vGaWLcr9Ho pic.twitter.com/FOiW2q8CVZ

— Tweezy (@TweezyZA) September 27, 2018
@L_Tido #16Album is officially out!!!

Get it here: https://t.co/WjQZZBShgX

Congratulations bro 🚀🇿🇦✊🏾

— Solo (@ThisIsSoloSA) September 27, 2018
S/O to my bro @L_Tido for dropping a heat of an album #16 available on all digital platforms #16album https://t.co/3sB6bemc6I

— #NeverTooMuch (@SeanPages) September 27, 2018
Get my brothers @L_Tido album please https://t.co/cwBCXdXpQt out now !!! 💥💥💥💥💥

— Maggz (@Maggz100) September 27, 2018
Congratulations my Brother @L_Tido https://t.co/hp3Pb0r4pk

— STOGIE T (@TumiMolekane) September 28, 2018
Ezinye izinja ke, 16 Vula Vala @L_Tido just dropped his long awaited album #16 on all digital platforms… Zithole lapho🤙🏿 #16Album https://t.co/rdTipV4nHv

— Ma-E (@MaEzeeDoesIt) September 28, 2018
BRAND NEW @L_Tido OUT NOW!!🙏🏾💫 #16Album https://t.co/6HOpCsuLFC

— #MoozlieVictory🏆 (@NoMoozlie) September 28, 2018